Smart TV Singapore: 10 Factors to Consider Before Buying Your Smart TV (2023)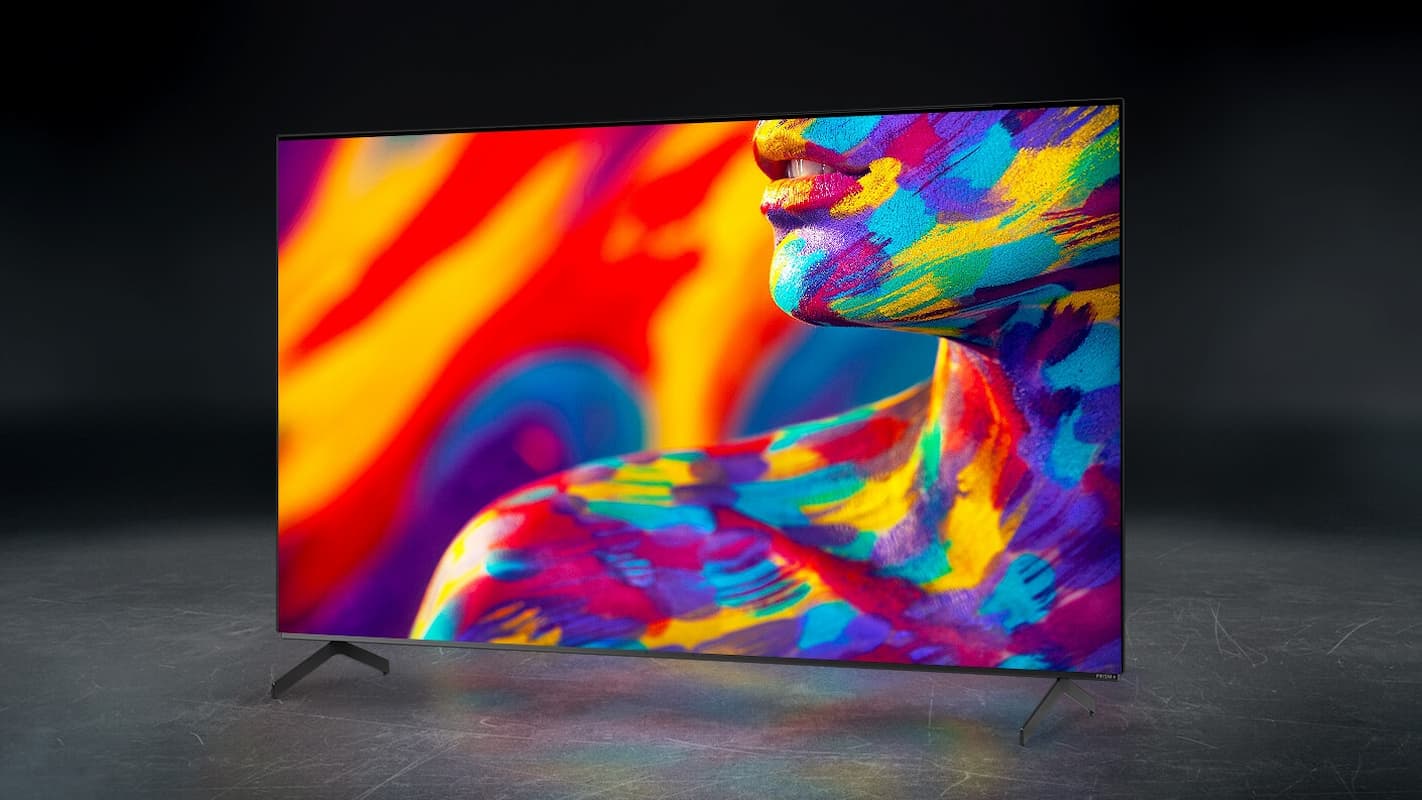 Buying a Smart TV these days can be a little complicated. With so many new features being advertised and countless options available in the market, it can get a little overwhelming.
In this article, we'll be explaining 10 key factors to consider when buying a Smart TV and answer some queries like: What type of TV should I buy? What screen size should I get? Why is HDR important?
1. What Screen Size Should I Get?
Firstly, when it comes to screen size, bigger isn't always better. A large screen size can be attractive when you think about creating a mini-cinema in the comfort of your home. But, if the large TV is placed in a small room with insufficient space, you might end up sitting too close to the screen and this may ruin your visual experience. 
To help you with this, you can follow the recommendations in the table below:
| TV Size (inches) | Viewing Distance (metres) |
| --- | --- |
| 32" | 1.37m |
| 43" | 1.83m |
| 55" | 2.35m |
| 65" | 2.77m |
| 75" | 3.20m |
| 86" | 3.63m |
For more details, read more here: What's the Best TV Size for your HDB: 65 Inch or 55 Inch? - Top 5 Factors to Consider
Secondly, this is an important yet often misunderstood idea. Screen sizes are measured diagonally and not horizontally. This means that a 65-inch TV has a diagonal length of 65 inches measured from two opposite corners of the screen.
Lastly, it is important to consider how many people in your home usually watch  TV. If you have a big family that gathers around the living room to watch TV at night, or you have a habit of having friends over for movie nights, it would be a good idea to get a bigger TV.
We suggest getting one with a screen size of at least 65 inches if you can afford it — also dependent on the size of your living room. 
In addition to screen size, consider the viewing angles. A TV with a wide viewing angle is ideal as the image and colour reproduction remain consistent when viewed from acute angles. 
In terms of display technologies, OLED TVs like the PRISM+ 65AL offer the best viewing angles due to their excellent consistency in colour and image when viewed from off-centre positions. However, OLED TVs are also the most expensive in the Smart TV market today. 
To help you to better visualise how TVs of different sizes fit into your living room, check out this free online tool, Flat Panels HD. If that doesn't help, there are also 3D apps like Housecraft that allow you to visualise your furniture.
2. What Are the Different Types of Display Technology?
For display technologies, the common ones include LCDs, LEDs, QLED, OLED and quantum IPS among others. 
But What Do All These Acronyms Even Mean?
LCDs: Liquid crystal displays (LCDs) are the oldest among the others. It uses a liquid crystal layer that is sandwiched between two layers of polarised glass and controls the amount of light passing through when an electric current is applied. The light is shone through light-emitting diodes (LEDs) or cold cathode fluorescent lamps (CCFL) which are the backlights that show the images. 
LEDs: These light-emitting diodes (LEDs) are a type of LCD technology that can produce thinner TV models, better colour contrast and more energy efficiency using LED backlights rather than CCFL. 
QLEDs: Quantum dot light emitting diodes (QLEDs) is a panel technology developed by Samsung. It uses tiny particles known as quantum dots which can emit more vibrant colours and higher brightness levels to produce more colour-accurate pictures. 
[Note: QLED is still an LCD-based technology that uses a LED backlight system albeit more advanced.]
OLEDs: Organic light-emitting diodes (OLEDs) use organic compounds that emit light when an electric current passes through them. The main difference between OLED and QLED is that the pixels in OLED are self-emissive. This means that the pixels can turn on to emit light individually and turn off completely to produce deeper black colours. This allows OLED panels to have the best contrast levels and picture quality among the other display technologies. OLED panels also have the widest viewing angles.
[Note: OLED panels are prone to image retention and burn-in. For more details, read more here: What are Ghosting and Burn-in? - Learn How to Care for Your Monitors and Screens]
If you're interested to learn more about the differences between OLED and QLED technologies, read our article: OLED vs QLED: Which TV Display Technology Should You Get?
Quantum IPS: Quantum dot in-plane switching (IPS) are IPS panels that utilise quantum dot technology. IPS panels are a type of LCD technology and it is known for its excellent colour accuracy and wide colour gamut. It is cheaper than QLED and OLED panels since it's an older technology. 
Which Display Technology Should I Get?
If budget is not an issue and you want a TV with the best colour reproduction, the OLED Smart TV is the way to go. 
On the other hand, QLED panels are capable of achieving higher brightness levels compared to OLED panels and are also less susceptible to burn-in.

In the context of Singapore where sunlight is in abundance, a QLED Smart TV may be an ideal option if you are going to place it in a room with a lot of exposure to natural light. Plus, QLED TVs are usually cheaper than OLED TVs as well.
For more budget-friendly prices of QLED and OLED TVs, check out the PRISM+ collection here. 
3. What About Screen Resolution?
Screen resolution refers to the number of pixels used to display content on a screen. A screen with higher pixel density results in higher resolution, which means sharper images and finer details. 
For instance, a 4K TV (3840x2160) has 3840 and 2160 pixels measured horizontally and vertically respectively. It has a higher pixel density than a Full HD TV (1920x1080). 
4K TVs are increasingly becoming the market standard for TVs today. This is because most streaming platforms like Netflix, Disney+, Amazon Prime Video, and Apple TV+ all provide a growing selection of content in 4K resolution. This means that if you want to fully immersive yourself in the highest quality content available on these streaming platforms, a 4K TV is necessary.
But What About 8K TVs?
Higher resolution is usually the better option but we currently don't recommend 8K TVs because most content right now supports up to 4K resolution. So if you do have an 8K TV, the 8K resolution won't be fully maximised. Plus, 8K TVs are significantly more expensive than 4K TVs.
Read more here: Comparing 4K and 8K: Is it worth it to upgrade? 
4. Does the Smart TV have HDR Support?
High dynamic range (HDR) is an upgrade from the standard dynamic range (SDR) as it provides better visual quality. It increases the dynamic range between the brightest and darkest parts of a scene on screen. HDR aims to recreate realistic, life-like content with better contrast levels and more accurate colour representation.
HDR is the norm for TVs today. But technology has advanced and there are now different HDR formats in the market. Common formats are HDR10, HDR10+, and Dolby Vision. 
HDR10: HDR10 uses static metadata, which means that the HDR settings for a video or movie are set at the beginning and remain consistent throughout the content played. The settings include maximum brightness and contrast level, and colour gamut among other settings that remain unchanged regardless of the scene. 
HDR10+ and Dolby Vision: These two formats utilise dynamic metadata. Dynamic metadata, on the other hand, is more adaptive as the HDR settings change for different scenes or different frames. For instance, the maximum brightness levels change according to individual frames to create more precise scenes as intended by the content creator. 
However, Dolby Vision is considered the best in the market because it has the highest colour depth of 12-bit compared to the 10-bit colour depth of HDR10 and HDR10+. Furthermore, there are currently more streaming platforms that support Dolby Vision compared to the other HDR formats.

To sum it up: 
For a quick and concise explanation, you can also watch the video below:
5. Why Does Audio Quality Matter?
Audio quality is an important factor to consider when watching movies. 
TVs in the market today typically don't have the best audio quality since they are getting thinner. While this makes them aesthetically pleasing to the eye, it also means less space in the TV to install proper high-quality speakers. 
Most people get around this by buying external soundbars and subwoofers to complement their TV setup. If you're one of them, we recommend the PRISM+ Symphony for an immersive audio experience or the more affordable PRISM+ Ripple soundbar to elevate your TV audio setup. 
[Note: Both soundbar models have Dolby Atmos support and Bluetooth 5.1 connectivity for wireless connection.]
Dolby Atmos is an advanced surround sound audio technology format that creates a 3D soundscape where the sound comes from all directions depending on the scene. 
To learn more about Dolby Vision and Dolby Atmos, read more here: What is Dolby Vision and Dolby Atmos? - A Must-Have For a Home Cinema
However, if you're only planning on purchasing a TV, PRISM+ has a range of TV models like the PRISM+ Q75 Ultra that possess both Dolby Vision and Dolby Atmos.
6. What Are Refresh Rates?
Refresh rate is the frequency at which the image on the screen refreshes per second. It is measured in hertz (Hz) and TVs with higher refresh rates experience less motion blur when watching fast-paced content.
That said, most TVs have refresh rates of around 60Hz and this is more than sufficient for watching movies. Movies typically have a frame rate of 24 frames per second (fps) and 60Hz is enough to have a smooth viewing experience.
If you want to play fast-paced games on TV, high refresh rates are important. But if you only use the TV for watching shows or movies, a refresh rate of 60Hz is adequate.
7. What Are the Smart Features?
Apart from having access to the internet to watch your favourite shows on built-in streaming apps, there are some other features to look out for. This includes a far-field microphone for voice control, motion smoothing effects and Bluetooth connectivity.
Far-field microphone: Having voice control removes the need for a TV remote. You can simply ask the TV to change to a specific channel, search for a video on YouTube or turn it off among a host of other requests. A far-field microphone means that the TV can hear your voice from further away. 
For instance, maybe you're busy cooking in the kitchen but you wanna play some music on the TV. With Google TVs, you can simply say "Hey Google! Play some music on YouTube" while your hands are occupied.
Motion smoothing effects: Motion smoothing or MEMC (Motion estimation, motion compensation) is the TV's ability to create additional frames to reduce perceived motion blur and to make the content appear more smooth or fluid to our eyes. 
Bluetooth connectivity: This could come in handy when you're playing console games on your TV and you need to connect your headphones to the TV. Having Bluetooth connectivity also allows you to connect other devices like soundbars wirelessly. This makes for a clutter-free setup.
For more information on the latest features of Google TVs, read more here: Goodbye Android TV. Hello Google TV - 5 Things You Need to Know About the Latest TV OS
8. Types of Video Ports
This often overlooked aspect can be annoying when you realise that you don't have enough video ports to connect your TV to different devices or if you don't have the right type of cables to connect to the ports. 
Some of the common ports found on a TV are HDMI, ethernet, and USB. There are other ports as well but this may differ depending on the TV manufacturer.
Below is an image with the different ports and their corresponding cable heads.
Image by CreativeSpace on Freepik
9. Mounting Options
Next, after you've selected your Smart TV, you need to choose your mounting option. 
Standing Mount:
This is perhaps the most common and fuss-free mounting option.
Wall Mount:
This option provides flexibility in viewing angles and distances. However, it also requires drilling holes in your wall.
[Note: PRISM+ TVs are VESA-compatible, meaning that they can be installed with any VESA-compatible wall mounts. Get a free installation when you purchase a PRISM+ TV.]
TV Stand: 
This is a good option if you don't have space on your walls or if you don't intend to drill any holes. You can easily shift your TV around whilst achieving a nice artistic look to complement your home.
[Note: PRISM+ also offers an array of different TV stands like the Kanva Tripod TV stand which displays your TV like a museum art piece.]
10. Warranty Duration
Lastly, a new Smart TV may be an expensive investment. That's why you're going to want to have a warranty.
A warranty is like an insurance for your TV in case something goes wrong. It can cover repairs for damaged screens or whatever is covered under the warranty contract. 
Most TVs have a warranty duration of 1 year but for PRISM+ TVs, the warranty duration is 3 years. Plus, it's on-site, meaning that if anything happens to your TV, the service crew will head down to your home to service it.
Also, watch out for warranties that require you to register online. These attempts are usually betting on laziness to get service providers out of warranty agreements (and to get your personal details).
For more information on PRISM+ warranty policies, click here. 
Conclusion
In addition to the above-mentioned factors, the specifications of TVs and the prices vary according to size, features, and display technology among others.
Furthermore, the prices of Smart TVs with similar features and screen sizes can also differ based on the brand. But this doesn't mean that cheaper TVs are bad or inferior. Sometimes, TVs with similar specifications can differ due to the brand reputation. 
Fortunately, PRISM+ has a series of OLED, QLED and quantum IPS TVs for your selection and at attractive prices. 
If you don't take our word for it, check out this third-party review of the PRISM+ Q55 Ultra QLED TV in the video below:
PRISM+ OLED and QLED TV: 
PRISM+ TVs

PRISM+ 65AL

PRISM+ Q65 Ultra

Image

Size

65-inch

65-inch

Display Technology

OLED

QLED

Resolution

4K UHD (3840x2160)

4K UHD (3840x2160)

Audio Quality

Dolby Atmos & DTS TruSurround

Dolby Atmos & DTS TruSurround

HDR Support

Dolby Vision




HDR10




Hybrid Log Gamma

Dolby Vision




HDR10+
FAQs
Can I connect my gaming console to a Smart TV?
Yes, most Smart TVs come with HDMI ports that allow you to connect gaming consoles and other external devices.
Do all Smart TVs support voice control?
Not all Smart TVs support voice control. Make sure to check the specifications of the model you are interested in to see if it is compatible with voice assistants.
Is a higher refresh rate always better?
A higher refresh rate is beneficial for fast-paced content like sports or action movies. However, for regular TV shows and movies, a standard 60Hz refresh rate is usually sufficient.
Can I mount my Smart TV on the wall?
Yes, many Smart TVs are designed to be wall-mountable. Check the specifications or consult the manufacturer's guidelines for compatibility and recommended mounting options.
What should I do if my Smart TV has a defect or issue?
If your Smart TV has a defect or issue covered under warranty, contact the manufacturer's customer support for assistance and potential repair or replacement options.