The Ultimate Guide to Choosing the Perfect Monitor Arm for Your Desk Setup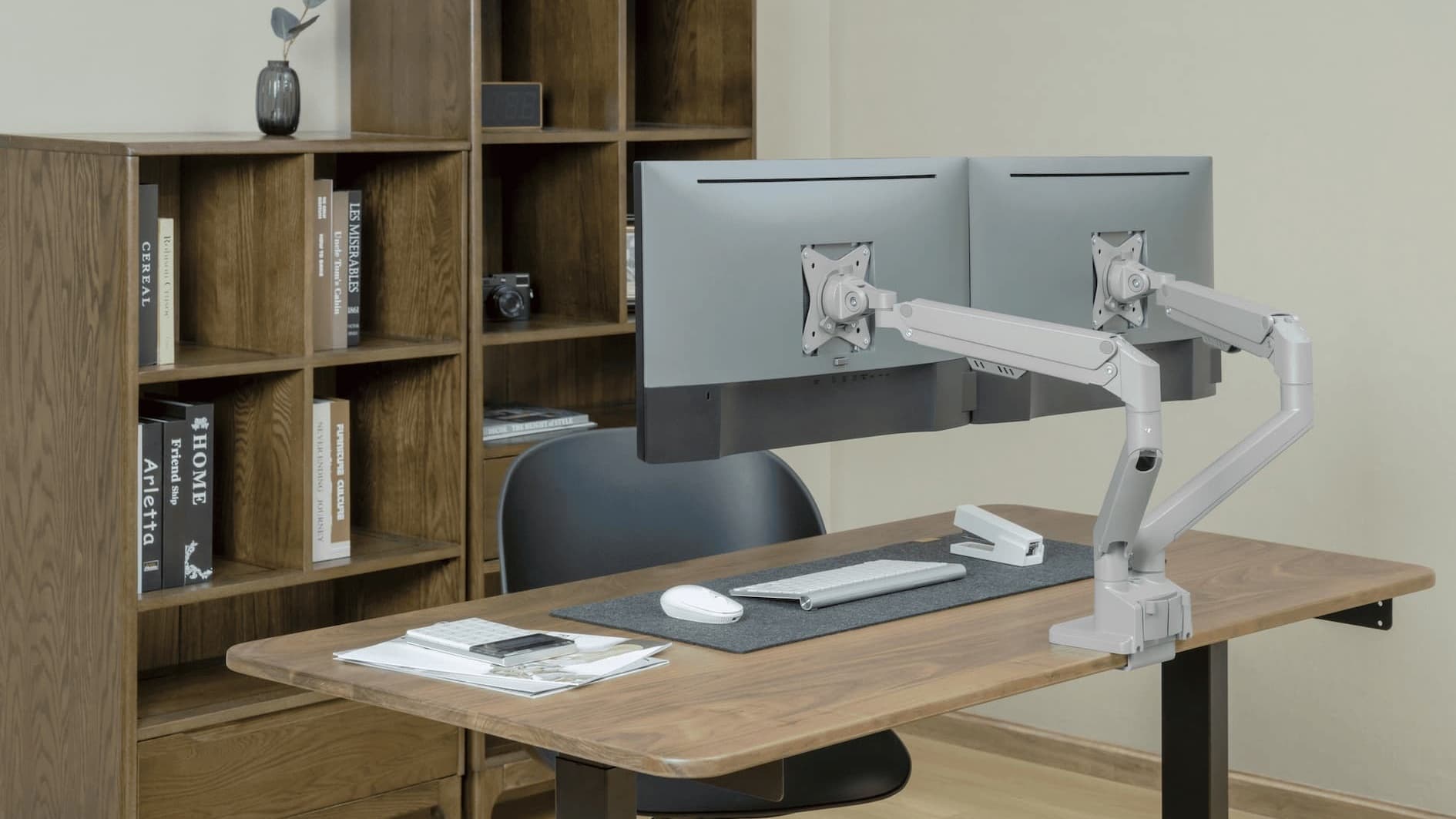 Monitor arms may not be one of many things that come to mind when shopping for monitors. But that doesn't diminish its usefulness. A monitor arm can help improve your sitting posture and make your desk setup more comfortable overall.
In this article guide, we'll be covering some important considerations before you decide what type of monitor arm to get.
Design Desk Considerations
Before thinking about getting any monitor arm to complement your monitor, you need to consider the physical features of your desk or table. This helps you to decide if you should go for a wall mount, standing mount, clamp mount, or grommet mount. 
Let's begin.
| Mount Type | Definition | Image |
| --- | --- | --- |
| Standing Mount | Free standing mount that does not require complex installation. It has a sturdy base and is designed to be placed on a flat horizontal surface. Some models allow you to adjust the height, tilt, and swivel of the monitor. | |
| Clamp Mount | Designed to be attached or clamped to the edge of a table or desk. The adjustable clamp makes it adaptable for different desk thicknesses. It also helps to save desk space and provides flexible positioning. | |
| Grommet Mount | This is installed via a hole (drilled or pre-drilled) in the table. The mount comes with a plate or bracket and is tightened with a screw from under the table surface. | |
| Wall Mount | This mount is designed to be attached to the wall. It requires drilling into the wall for installation and can help save desk space. Moreover, depending on the model, some wall mounts allow for height, tilt, and swivel adjustment. | |
1. Thickness of Desk and Material
The thickness of your desk is a crucial factor. If the desk is too thick, you may not be able to use your newly purchased monitor arm if it is to be installed via a clamp mount. Clamp mounts are installed at the edges of the table and this requires the thickness of the table to fall within its clamping range. 
An example of a monitor arm with both clamp and grommet mount installation is the PRISM+ Arc Neo single arm. The image below shows the design specifications.
Design Specifications of the Arc Neo Single Arm
On the other hand, if the desk is too thin (thinner than 10mm), the clamp mount may not be held securely in place. 
Watch this video on how you can set up the PRISM+ Arc Neo single arm via clamp and grommet mount:
Secondly, the material of the table is also a factor. For instance, if your table is made out of soft wood, there is a higher likelihood of dents being made on the edges where the clamp mount is installed. This leaves an ugly mark on the table should you ever choose to shift the clamping position along the edges.
Different Types of Wood and their Hardness.
Thirdly, if you intend to drill a hole into your table to use a grommet mount, you must ensure that the screw is long enough to securely hold the mount in place. 
2. Physical Obstructions
Monitor arms usually work best with flat surfaces and desks with no roof compartments that could impede the height adjustments of monitor arms. 
Moreover, if your desk is built into your home carpentry, or is attached to the wall, you can opt for a wall mount or standing mount option. 
Some standing mounts like the PRISM+ Elevate X1 allow you to make horizontal, vertical, and tilt adjustments compared to other traditional standing mounts that remain stationary.
3. Shaky Desks
When installing monitor arms on desks that are unstable, you might experience your monitor shaking as well, especially if you happen to make strong movements on the desk.
4. Desk with Height Adjustment Features
The best type of desks to complement monitor arms are desks with height adjustment features. Desks like those from Omnidesk and EverDesk enable you to adjust the height of your desk to suit your viewing preferences. 
To complement these height-adjustable desks, monitor arms allow you to adjust the height of monitors to your eye level and at a suitable angle for comfortable viewing. This is not possible with a fixed wall mount or stand.

 Image by macrovector on Freepik
Benefits of Monitor Arm vs Monitor Stand
1. Save Space
Monitor arms help you to save desk space compared to monitor stands. Since the monitor arms lift the monitors above the desk, plenty of space below the monitors is freed up. This creates a neater and less stressful working environment.
This is more apparent for those who use dual monitors. The video below illustrates this benefit in a clear and concise manner.
[For more details on the PRISM+ Arc Stealth Dual Monitor Arm, click here.]
2. Adjusting Height and Distance
As mentioned above, monitor arms enable you to adjust the angle, height and distance from the screen. This is especially useful for those whose work revolves around spending long hours sitting in front of a screen.
If your monitor is positioned too low, you might end up hunching and straining your neck unconsciously. This is bad for your back and neck posture in the long term.
Image by Freepik
Hence, it might be a good idea to invest in equipment that promotes superior ergonomics if it means fewer neck aches and hunching. 
3. Different Viewing Styles
As shown in the images below, monitor arms have the capability to display your monitors in whichever manner you like. This versatility in viewing styles could be helpful for graphic designers who need to view their work from different angles or modes like landscape and portrait.
[The PRISM+ Arc Opus Dual monitor arm is used in the images above.]
4. Better Cable Management
Cables are often used to connect your monitor to different external devices. 
Some monitor arm models like the PRISM+ Arc Titan Dual provides cable management features that make your entire desk setup a lot neater. 
Other Considerations:
1. Weight of Monitor
Every monitor arm has a maximum weight limit that it can hold. When shopping for a monitor arm, be sure to check if it can hold the weight of your monitor. 
If your monitor is too heavy for the monitor arm to hold, it will sink towards your desk and this defeats the purpose of the arm altogether.
2. VESA Mount Compatibility
What is VESA? VESA stands for the Video Electronics Standards Association and they set the standards for display mounting systems for different brands. 
Hence, any monitor arm that is VESA compatible can be used on monitors with the VESA standard square or rectangle-shaped hole patterns on the back of the monitor.
However, there are some manufacturers that do not follow VESA standards and thus, manufacture monitors or monitor arms that are VESA incompatible. Therefore, it is essential that you ensure that your monitor arms are compatible with the mounting requirements of your monitor.
[All PRISM+ monitor arms are VESA compatible. Check them out here]
3. Laptop Holder
If you're intending to use your laptop as a secondary screen, you can consider getting a laptop holder to complement your monitor desk setup. The laptop holder serves as a monitor arm for your laptop, allowing you to also adjust the height and viewing angle. 
In conclusion, the usefulness of monitor arms cannot be underestimated. Most users do not regret their decision to purchase a monitor arm to complement their monitors and upgrade their viewing experience.
Of course, it is important to conduct your own research and find a monitor arm that best suits your needs. Ultimately though, this is still a matter of personal preference. 
Check out this video for more details:
FAQs
Can I use a monitor arm with any desk?
Monitor arms are designed to be compatible with various desk types. However, it's important to consider the thickness and material of your desk to ensure proper installation and stability.
Will a monitor arm work with my curved monitor?
Yes, many monitor arms are compatible with curved monitors. Ensure that the monitor arm you choose specifies compatibility with curved displays and supports the weight of your specific monitor.
How much weight can a monitor arm support?
The weight capacity of monitor arms varies. Make sure to check the manufacturer's specifications to determine if the arm can support the weight of your monitor.
Can I adjust the height and angle of my monitor with a monitor arm?
Yes, most monitor arms offer height adjustment, tilt, swivel, and rotation features. These allow you to customize the positioning of your monitor for optimal viewing comfort.
Do I need any special tools for installing a monitor arm?
Monitor arms usually come with the necessary tools for installation. However, it's a good idea to have a screwdriver and measuring tape on hand to ensure a smooth setup process.