The Only Fan You'll Need: PRISM+ Expands Smart Home Appliance Offerings with Launch of the PRISM+ Oasis Smart Ceiling Fan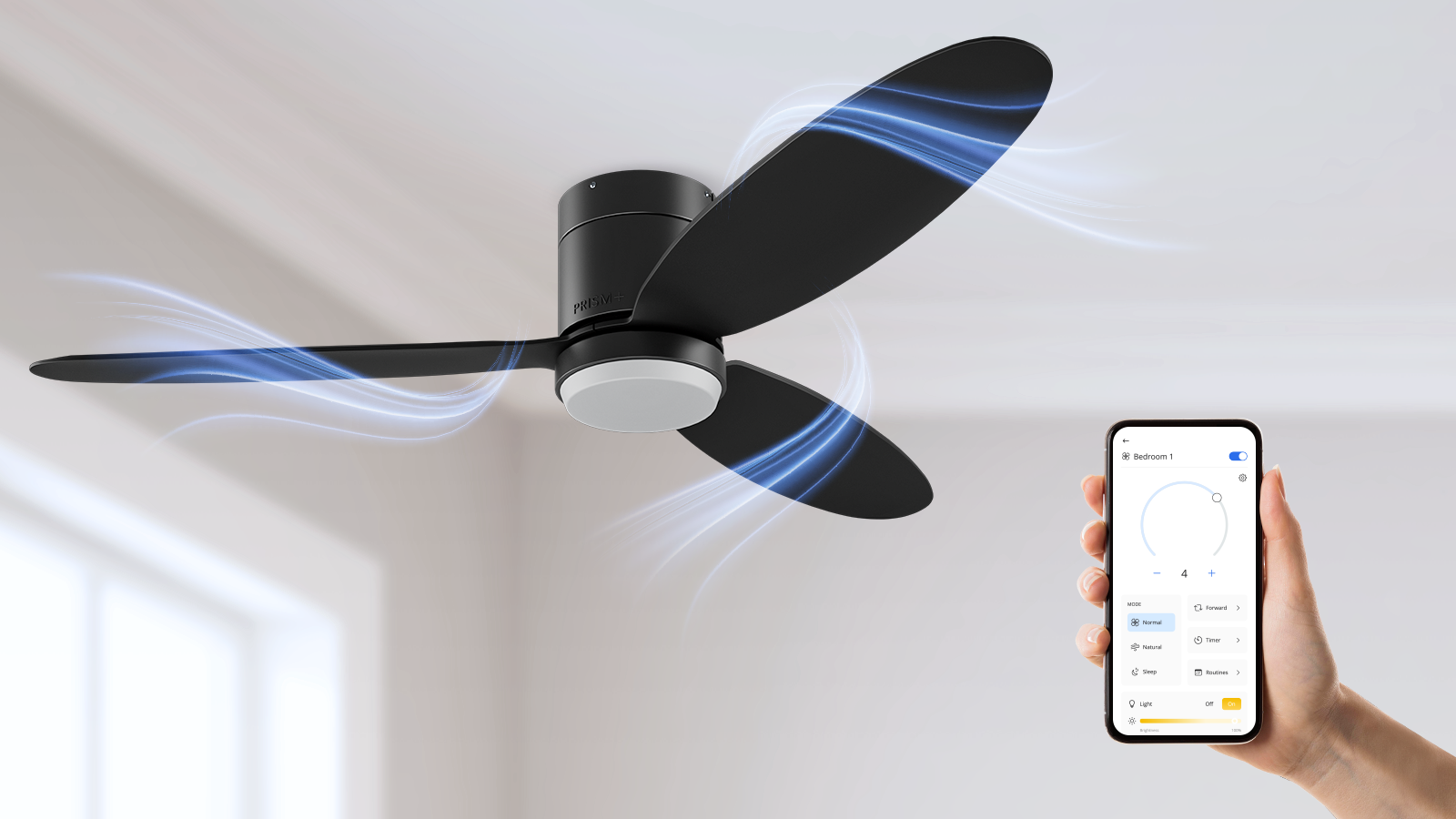 Singapore, 17 November 2022
Built for silent efficiency, the Oasis promises to blow its fans away with its fully customisable LED lights, superior airflow control, smart home features, and after-sales services.
Singapore-based consumer electronics brand, PRISM+, today announced the launch of the PRISM+ Oasis. The smart ceiling fan, which comes with a fully customisable 20W Osram LED light and an accompanying smartphone app, will feature two fan blade sizes; the 46" and 52" variations. The brand will also offer a base model without the smart features.
Having earlier launched its smart air conditioner system, the PRISM+ Oasis is the brand's second entry in its line of smart home appliances. Powered by a state-of-the-art brushless DC motor that promises silent efficiency, the Oasis is encased in a sleek metal body and utilises three finely crafted premium ABS blades to deliver optimum airflow. Designed to enhance the modern home aesthetics, the smart ceiling fan will come in fifteen colour combinations so customers can choose the best fit to match the personality of their home.
Jonathan Tan, Founder and Managing Director of PRISM+ said, "Technology exists today in a state where it seamlessly brings convenience and personalisation to a user's lifestyle. The Oasis is a continuation of the work that we have been putting in, to make smart home experiences more accessible to the masses."
PRISM+ Oasis Smartphone App: Superior Smart Home Experience
The PRISM+ Oasis comes with an accompanying smartphone application that promises enhanced customisation and control over your smart ceiling fan, anywhere at any time. Users can choose to set routines, timers and check on their usage habits to optimise energy consumption habits.
Aside from empowering users with the ability to remotely connect to their fans, The PRISM+ Oasis App will also allow users to connect their smart ceiling fan to Google Assistant to set up a network of connected devices for a holistic smart home experience. 
Jonathan adds, "Having previously launched the smart aircon series allowed us to lay the foundations of building and designing apps to support our smart home devices. In the near future, we are looking to consolidate our smart home appliances under one all-encompassing app for convenience."
Designed for Silent Efficiency: Brushless DC Motor and Pre-programmed Modes
Designed for modern homeowners, the PRISM+ Oasis promises superior control over your environment's airflow. Compared to traditional AC motors, the Oasis is powered by a powerful DC brushless motor that operates with silent efficiency while promising savings on energy consumption.
The fan comes with six speeds of varying intensity, and users can also choose from a number of modes via the PRISM+ Oasis app to best suit their usage. Both the smart ceiling fan and the standard model come with Reverse Mode, which is designed to draw cold air from the centre of the room for redistribution. This feature is especially useful for users who utilise their air conditioner systems in tandem with their fan, allowing them to effectively cool the room faster and more efficiently.
The PRISM+ Oasis smart ceiling fan will also offer two additional modes. In Natural Mode, the fan will switch its fan speeds in intervals of 20 seconds to emulate a natural breeze within the environment, Meanwhile, its Sleep Mode is designed to facilitate rest through a gradual decrease in fan speeds; eventually stabilising at the lowest speed for comfortable and quiet sleep. 
Fully Customisable Lighting: 20W Osram LED light
Compared to traditional ceiling fans that usually come with preset colours and brightness options, the PRISM+ Oasis smart ceiling fan empowers users with complete control over their lighting. Users can customise the colour temperature and brightness of the 20W Osram LED lights through the PRISM+ Oasis App, ensuring the appropriate lighting for all occasions.
Designed for the Modern Home: 15 Customisable Premium Options
With its compact metal ceiling mount design and sleek ABS blades, the PRISM+ Oasis is designed to add style and class to any modern home. The premium ABS blades comes in five different options, with a variety of different finishes including matte white, matte black, and various wood selections. Users can pair it with one of three different ceiling mount designs including matte white, matte black and brushed rose gold to create 15 different colour combinations to suit the personality of their home.
A Brand You Can Trust: Best Warranty on the Market and In-house Installation

Customers who purchase the PRISM+ Oasis can enjoy the most comprehensive warranty for ceiling fans on the market. The Oasis comes with a lifetime warranty on its motor, five-year warranty on parts, and six years of warranty on their LED panel. 
For more details and specifications please refer to the spec sheet and pricing table or visit our website at https://prismplus.sg/products/prism-oasis.