PRISM+ Brings Home the Cinematic Experience with the brand's first OLED Android TV series and Dolby Atmos and Dolby Audio Enabled Soundbars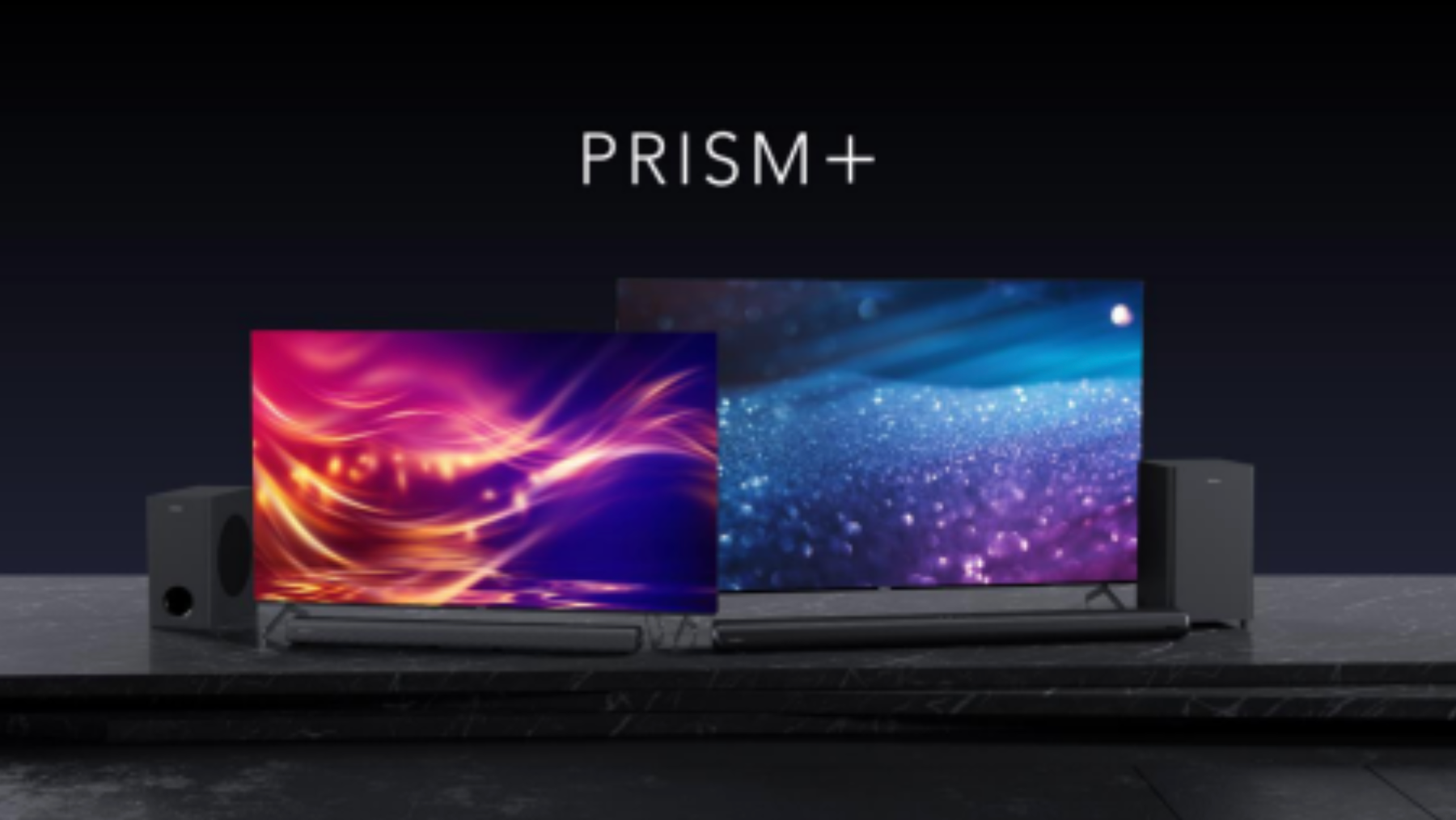 Singapore, 08 March 2022
The Singapore-based tech brand's product expansion sees it move into the premium TV as well as the audio space.
Homegrown consumer tech brand PRISM+ today announced its latest line-up of home entertainment systems, with the launch of the PRISM+ Alpha (AL) TV  Series and the PRISM+ Soundbars. The PRISM+ Alpha is the brand's first foray into the premium OLED display space and will feature two models - the 55AL and 65AL. 
In addition, the brand is also set to launch its first generation of audio products to complete the home cinematic experience. The PRISM+ Symphony and Flow will feature Dolby Atmos® spatial audio and Dolby Audio respectively. Both the OLED Android TV and soundbars will be available for purchase on its online store, as well as its official Lazada stores. 
PRISM+'s latest line of home cinematic products comes off the back of widely successful launches as demand for entertainment and work for home set-ups continue to rise. The brand's popularity was accentuated by its growth in the past two years, having seen sales grow over 1,100% between 2019 to 2021. Last year, the Singapore-based brand also expanded its operations to Malaysia, where it continues to see rapid growth in the market.
Jon Ng, Managing Director of PRISM+ said, "The past two years presented a unique challenge or the brand – with the pandemic limiting logistic capabilities worldwide. At the same time, demand for our televisions soared as content consumption habits changed, while consumers became more discerning. The launch of our 4K OLED Android TVs as well as our soundbars is  a step forward in the evolution of the brand as we continue to make premium home cinematic experiences more accessible while also supporting best-in-class immersive technologies like Dolby Vision and Dolby Atmos ." 
Leaping Ahead of the Pack with the PRISM+ Alpha Series 4K OLED Android TV 
Following the successful launch of the Q-Series Pro 4K Android TV which saw the brand introduce its largest-ever TV to date, the Q86-QE PRO, the launch of the PRISM+ Alpha 4K  OLED Android TV series represents the next step up in the brand's quest to deliver affordable premium technology to the masses.  
Long seen as the gold standard for home cinematic displays, organic light-emitting diode  (OLED) technology is capable of producing stunning picture quality, while eliminating the need for backlights, leading to some of the slimmest displays on the market. The PRISM+ AL TV series boasts its slimmest displays yet at a mere 3.8mm, while featuring a near bezel-less design. 
Composed of millions of self-illuminated pixels, the key feature of OLED TVs is their superior contrast levels that evoke the deepest blacks since unused pixels turn off completely. Display colours are also more uniform at a rate that regular LED TVs are simply unable to match. When paired with Dolby Vision ultra-vivid picture quality, the AL Series OLED TVs guarantee that each image produced is as true to the creator's intent as possible.  
The AL series also includes fan favourite features like motion smoothing technology (MEMC), and hands-free voice control alongside the full suite of Google Features including Chromecast Built-In, Google Assistant, and the 5000 plus apps featured on the Google Play Store. Content partnerships with OTTs like meWATCH, Viu, and iQIYI also offer customers access to the premium experience on each platform so they can enjoy a wide range of content on their new  TV free of charge.  
Premium Sound with all the Bells and Whistles at Affordable Pricing 
Having climbed to the peak of visual clarity, the launch of the PRISM+ Flow and PRISM+  Symphony soundbars will see the homegrown consumer tech brand enter the audio space for the first time. Targeted at different audience segments, PRISM+ Symphony soundbars will feature Dolby Atmos for a fully immersive home cinematic experience and PRISM+ Flow soundbars will support Dolby Audio. 
Built for true audiophiles looking for great value, the PRISM+ Symphony's star feature is undoubtedly the presence of Dolby Atmos – allowing the premium soundbar to immerse users in their favourite entertainment with sound that moves all around you with breathtaking realism. The PRISM+ Symphony is the most affordable premium soundbar in its class. When coupled with the upward firing speakers, this 5.1.2 soundbar breaks new boundaries with an added height dimension for sounds.  
In addition, the Symphony features an HDMI-eARC port that will allow users to play high fidelity audio, as well as a peak power output of 760 watts – allowing users to enjoy higher quality audio performance and a deeper, fuller bass without distortions even at higher volumes.  
Users looking for an entry-level audio set-up need look no further than the PRISM+ Flow.  The Flow is a 2.1 speaker that comes with 240W of peak power output and is powered by Dolby Audio Technology. The versatile soundbar measures at a length of  890mm x 82mm x 58mm, making it suitable for desktop setups, as well as small bedrooms. 
Both soundbars will feature wireless subwoofers, allowing for a more versatile set-up,  meaning that users can place the subwoofer in the optimum position in their homes. In addition, both the Flow and Symphony come with five preset modes for News, Music, Sport,  Gaming, and Movie – as well as adjustable LED brightness, and can be navigated via the TV  remote to ensure a seamless home cinematic experience. 
Ashim Mathur, Senior Regional Director, Japan and Emerging Markets, Dolby Laboratories said: "We are thrilled to collaborate with PRISM+ to elevate consumers' entertainment experiences. Dolby Vision delivers a more vivid, lifelike image thus, bringing entertainment to life whilst, Dolby Atmos produces sound with incredible clarity that allows users to hear details they've never heard before. With more and more Dolby Vision and Dolby Atmos content  available, consumers will enjoy a spectacular entertainment experience in their living rooms  with Prism+ TVs and sound bars."  
Jon Ng adds, "The launch of the PRISM+ Symphony and PRISM+ Flow is a realisation of our goal to bring true cinematic immersion into the living rooms of our consumers. We worked  closely with trusted partners such as Dolby to optimise our products for a seamless user  experience." 
Pricing and Availability 
The PRISM+ AL Series is available for purchase on the PRISM+ online store and all authorised online retailers as of 6PM, 11 March 2022.  
The PRISM+ Flow and PRISM+ Symphony will also be available for pre-orders at 6PM on 11  March and are scheduled to ship by the end of March 2022.  
For more information on price, details, and specifications please see below or visit:  https://prismplus.sg/collections/tvs