PRISM+ Brings New Meaning to 'Netflix and Chill' with Launch of Smart Air Conditioner, Smartphone App and In-house Aircon Servicing Team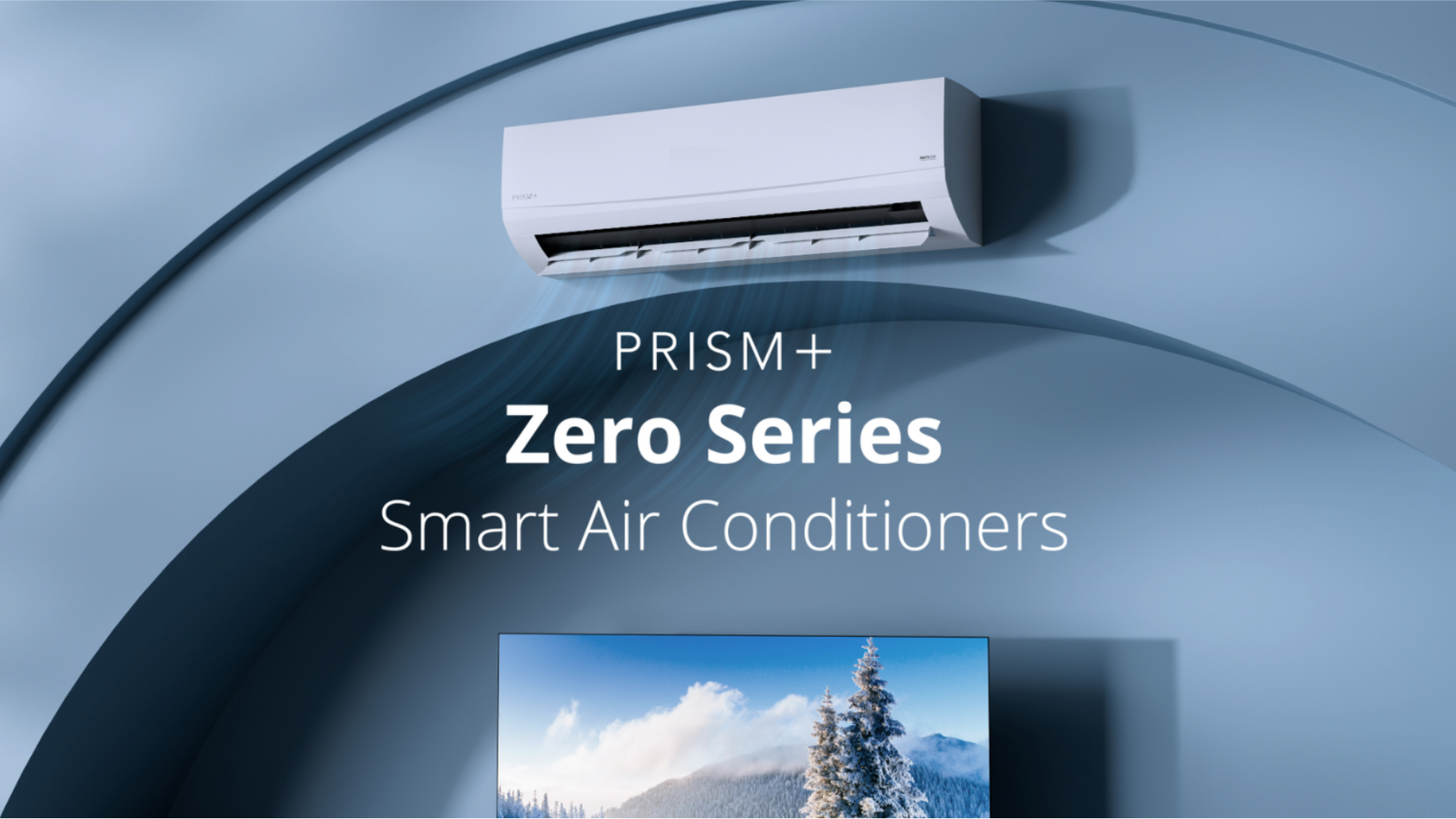 Singapore, 5 August 2022
The launch of PRISM+ Zero will make PRISM+ the first Singaporean brand to launch its own smart air conditioner

The homegrown brand will also launch a market-leading app with features to empower consumers to match device usage to their lifestyles

The brand will additionally launch in-house servicing and installation to back their extensive 8-year warranty for consumer peace-of-mind
Homegrown tech brand, PRISM+, announced today its arrival into the smart home appliance industry with the launch of its smart air conditioner line-up, the PRISM+ Zero Series. At launch, the PRISM+ Zero Series will feature three indoor unit models, the PRFZ09, PRFZ12 and PRFZ18, with respective cooling capacities of 9BTU, 12BTU and 18BTU – and will look to launch the PRFZ24, which features a cooling capacity of 24BTU, in September. Alongside the indoor units, the PRISM+ Zero smart air conditioner system will also feature two outdoor compressor models, the PRCZ28 and the PRCZ36, each capable of supporting varying indoor unit combinations.
To complement its entry into the smart home appliance industry, the brand has stepped away from its hardware-focused roots to launch PRISM+ Connect, a smartphone app designed for home automation. Developed after months of research and testing, the app represents the pinnacle of smart air conditioner applications on the market. Aside from offering Google Assistant integration to enable voice control, the app is feature-packed with tools such as geolocation settings, maintenance reminders, direct bookings for aircon servicing, setting routines to match their lifestyle, and insights to monitor usage frequency. In addition, the app will also allow users to both replicate the functionality of the remote control, while also controlling their device from a remote location.
The PRISM+ Zero air conditioner system will come equipped with a host of energy-saving and environmentally friendly features such as the inverter technology to help maintain constant temperatures more efficiently, eco-friendly R32 refrigerant, and the brand's very own Obsidian Seal Technology – a five layer coating that includes antibacterial and anti-corrosive materials, making the unit resistant to corrosion, heat and UV rays to allow the system to run as efficiently as possible. As with many premium air conditioners in the market today, the PRISM+ Zero comes with a rating of five ticks by NEA's Certified Energy Rating.
Jonathan Tan, Founder and Managing Director of PRISM+ said, "PRISM+ has always sought to bring value to our audience, by introducing quality products at accessible prices. The decision to move into the smart home appliance market was the next logical step for us as we look to bring a complete and holistic PRISM+ experience into the home. This launch is particularly special for us and a huge undertaking, not only because we are looking to disrupt an entirely new market segment – but also push our own boundaries in terms of innovation."
Seamless Smart Home Integration
Home appliances of today are built around a similar theme – to offer convenience through innovation. The market-leading PRISM+ Connect app was designed with this in mind, and offers a host of convenience and accessibility features to make the PRISM+ Zero the smartest aircon in the market. Aside from using the app as a secondary remote control, users are also able to access their air conditioners through voice control – a feature made available due to its ability to integrate with Google Assistant. 
Upon installation of the PRISM+ Zero air conditioning system as well as the PRISM+ Connect App, users are required to set-up a profile and connect their app to their new air-conditioning system. Users can then set up routines for when to activate their systems – based either on timing or the ambient temperature of the room. In addition, the app will also feature geolocation capabilities – allowing users to set distance parameters for their air conditioner systems to turn on and off based on their proximity. These functions mean that consumers have a plethora of options to manage usage, and never have to worry about returning to a home that's too warm or worry about energy usage having forgotten to turn off their devices.
Additionally, homeowners can share the setting of each individual air condition unit with other residents within the home, saving everyone the hassle of multiple set-ups and syncing of devices. Over time, the app will gather and present usage data including ambient temperature, average usage hours and more via the app's insight tracker. Users also need not worry about the health of their devices, with the app's Maintenance features, that will prompt users to book their quarterly maintenance, and allow for users to schedule their next servicing appointment through the brand's in-house aircon services.
The brand plans to continue developing its work on the PRISM+ Zero and PRISM+ Connect, with plans to integrate motion sensing and energy monitoring to its already feature-packed app. Jeremy Koh, Strategic Projects Director at PRISM+ says, "The PRISM+ Connect app represents an evolution for the brand, as we look to move beyond just product features towards building a holistic experience. We will continue building on the app's features, adding compatibility with future PRISM+ products as we build out the PRISM+ ecosystem."
Beyond the Product: Putting Customer Assurance at the Forefront
Servicing and maintenance remain a key concern for consumers who invest thousands of dollars into their air conditioning system. In addition to its omnichannel customer service support and comprehensive smart home app – PRISM+ has also grown its in-house capabilities to ensure consumers will receive end-to-end support for the installation, servicing and maintenance of the air conditioner units.
The homegrown brand has built a team of dedicated and experienced aircon technicians and installation experts, specifically for the launch of PRISM+ Zero. The move comes as the brand continues to tease the release of future smart home appliances, and can be seen as a signal of intent for the brand's future plans to expand into home fixtures and furnishing.
Jeremy adds, "As a new player in the market, we understand that offering consumers assurance is our number one priority. Unlike non-permanent furnishings in the home like TVs, quality of installation is a critical consideration. Having a team of experienced technicians ensures that we are capable of providing quality workmanship upon installation while discouraging issues such as poor piping and insulation as well as gas leaks."
As further proof of its efforts to build consumer trust, PRISM+ supports the most comprehensive warranty for air conditioners in the market. Upon purchase, users are all entitled to one-year coverage of their air conditioner units – following which they can choose to opt-in for quarterly servicing of their air conditioners with PRISM+ through a pay-per-use system. Quarterly servicing of their units will immediately entitle users to an extended 8 year warranty on both their indoor units and outdoor compressors. Servicing prices have been kept competitive with market prices and include added services such as gas top ups and bi-annual filter swaps completely free.
For more details and specifications please visit our website at https://prismplus.sg/products/prism-zero